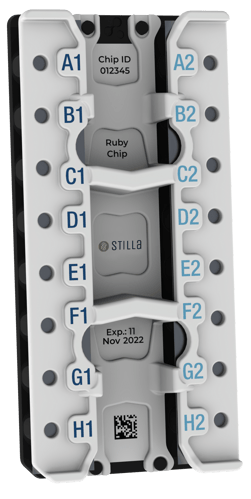 Ease-of-use | Automation | Sensitivity
INTRODUCING:
THE RUBY CHIP
Load, and go.
The Ruby Chip for the naica® system has been designed fit-for-purpose for high-throughput digital PCR applications. It's the first "load and go" consumable for digital PCR, allowing samples to be loaded from a single pipetting step, either manually or from most liquid handling robots available on the market today.
Streamline workflows, ditch the need for extra digital PCR consumable products, and reduce variability while efficiently getting from sample to answer.
16 samples/chip. 48 samples/run. 144 samples/day.

Single, pre-assembled consumable.

Efficient experimental planning, with extended stability for pre-loaded chips.

Compatible with automated liquid handling equipment.

Compatible with all naica® systems and naica® PCR MIX reagents.
For Research Use Only. Not for use in diagnostic procedures.